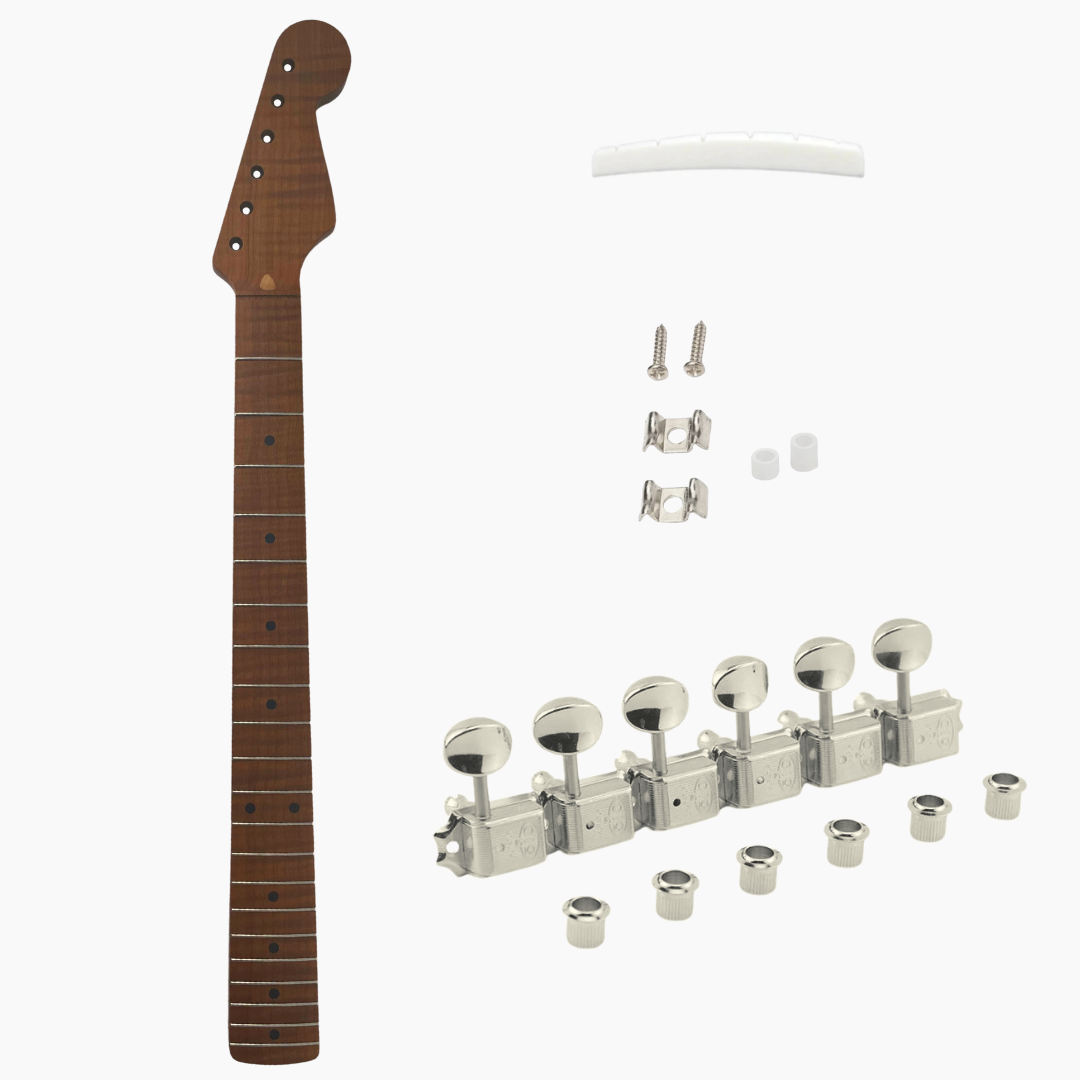 Allparts Roasted Flame Maple Neck & Gotoh Tuner Bundle - BUNDLE & SAVE
Why be ordinary when you can be extraordinary?  If you're looking for a high-quality replacement neck for your Stratocaster®, this "Bundle & Save" collection offers stunning looks and enhanced performance!  And best of all, we've priced this collection at 10% off the sum of the components bought separately!  
Collection Includes:  
Allparts SMTF-CRF – Licensed by Fender Roasted Maple Replacement Neck for Stratocaster®
SMTF-CRF - Features:
Figured North-American AAA roasted maple offers reduced weight, added stability and a beautiful look.
21 Tall-Narrow frets (0.079" x 0.051" Vintage style)
Thin Semi-Gloss Poly Finish
10" Radius
1 5/8" nut width
2 3/16" heel width
0.340" tuning hole diameter
Truss rod adjustment at the heel
Thickness - 0.84" at first fret, 0.96" at 12th fret.
Manufactured to exacting standards in Japan.  
TK-7780-001 - Gotoh SDS510 Vintage Style 6 in line Keys (Qty 6) - Features:
A classy vintage aesthetic enhanced for modern performance.  
Brass string post for enhanced sustain and brighter tonality.
Durable stainless steel worm gear for maximum longevity.
Rock-Solid™ string post system maximizes tuning-stability and tonal transfer.
Lubricated coating on worm and brass gears for smoother, more accurate tuning.
Vintage 15:1 ratio
Optional light-weight carbon fiber plate (Gotoh C.A.R.D system) is included, but is not necessary for installation of the Tuners.  Use of the C.A.R.D. plate may require widening the tuning-key holes on the back of the headstock.  For more information, see SKU# TK-7780-001.
BN-0206-000 - Radiused Slotted Bone Nut for Fender® Guitars
Radiused and pre-slotted nut
1-11/16" x 1/4" x 1/8"
AP-0720-001 - Nickel String Guides  
String guides (2) wavy vintage-style
Includes screws and spacers
  Important Notes
Wood grain varies from neck to neck. Your neck may differ slightly from what is pictured.
Allparts necks have a limited lifetime warranty against defects in materials and workmanship.
All necks may require fret leveling and polish. This is normal and not a defect.
This neck is licensed to Allparts by Fender® Musical Instruments Corporation under a quality control trademark license. The distinctive headstock shapes commonly found on the Stratocaster®, Telecaster® and other Fender guitars are trademarks of Fender, registered in one or several classes of goods and services with the United States Patent and Trademark Office.
Allparts Music Corporation is not affiliated with Fender® and no Fender® warranty applies.