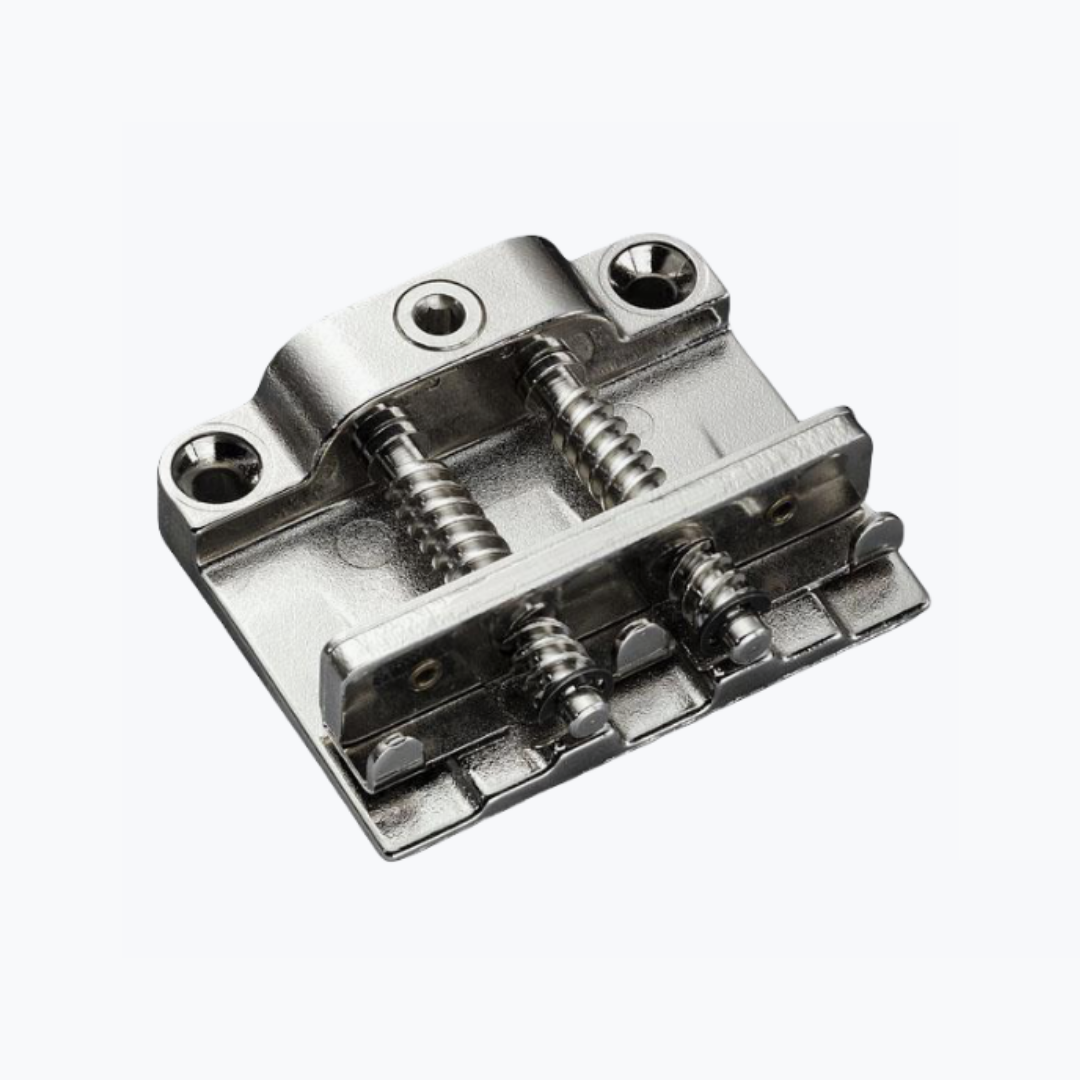 BP-0108-000 Schaller Sure Claw Spring Tensioner
Sure Claw
Sure Claw has been designed for guitarists who use a tremolo system with sustain block. It helps maintain the correct spring tension. The tension can be adjusted without removing the back cover plate.
Always the same problems you could do without, such as:
Using an extra long drill, drilling diagonally into the guitar body;
Using a very long, special cross-recess screwdriver (and a lot of muscle) to unevenly screw in the two fixing screws;
Running the risk of slipping with the screwdriver and damaging the guitar;
Repeated, tedious removal and re-attachment of the spring compartment cover, just for the sake of readjusting the tension springs.
All this can be avoided!
Our patented Schaller spring tensioner (Sure Claw) is the solution:
The Schaller spring tensioner is mounted horizontally and is easy to install (requires only two screws);
Its worm gearing means that adjustment is child's play;
Simultaneous, parallel adjustment of the spring claw;
Closed tremolo spring cover allows problem-free readjustment using an Allen key;
The Schaller Sure Claw has three cavities for the tremolo springs, which means you can use up to three springs when you need to.
Wonderfully simple, and simply wonderful! Give it a try.
Included are an Allen wrench and a centre punch for punch-marking the cover plate.
 Installation
Screw the Schaller Sure Claw into the guitar body in place of the spring claw, then re-attach the springs. You can then adjust the spring tension as you want it through a small hole in the cover plate (please drill this yourself) without having to take the cover off every time.
A spike for center-punching the cover is included as an accessory.
Simply place this spike in the Allen socket on the adjustment unit, then put the cover into place so that it is marked by the spike. This shows you exactly where the cover needs to be drilled, which means you can then make adjustments without having to remove the cover, simply by inserting the Allen wrench through the hole.
For grounding run a ground cable from the bridge to the Sure Claw. Strip the isolation and fan out the braiding. Now place the braiding between the wood and the Sure Claw base plate and tighten the two Sure Claw fixation screws firmly. This will ensure a permanent and reliable ground connection.
technical specification
weight 94g
scope of supply
2 mounting screws, 1 spike for center-punching, 1 Allen key 3 mm