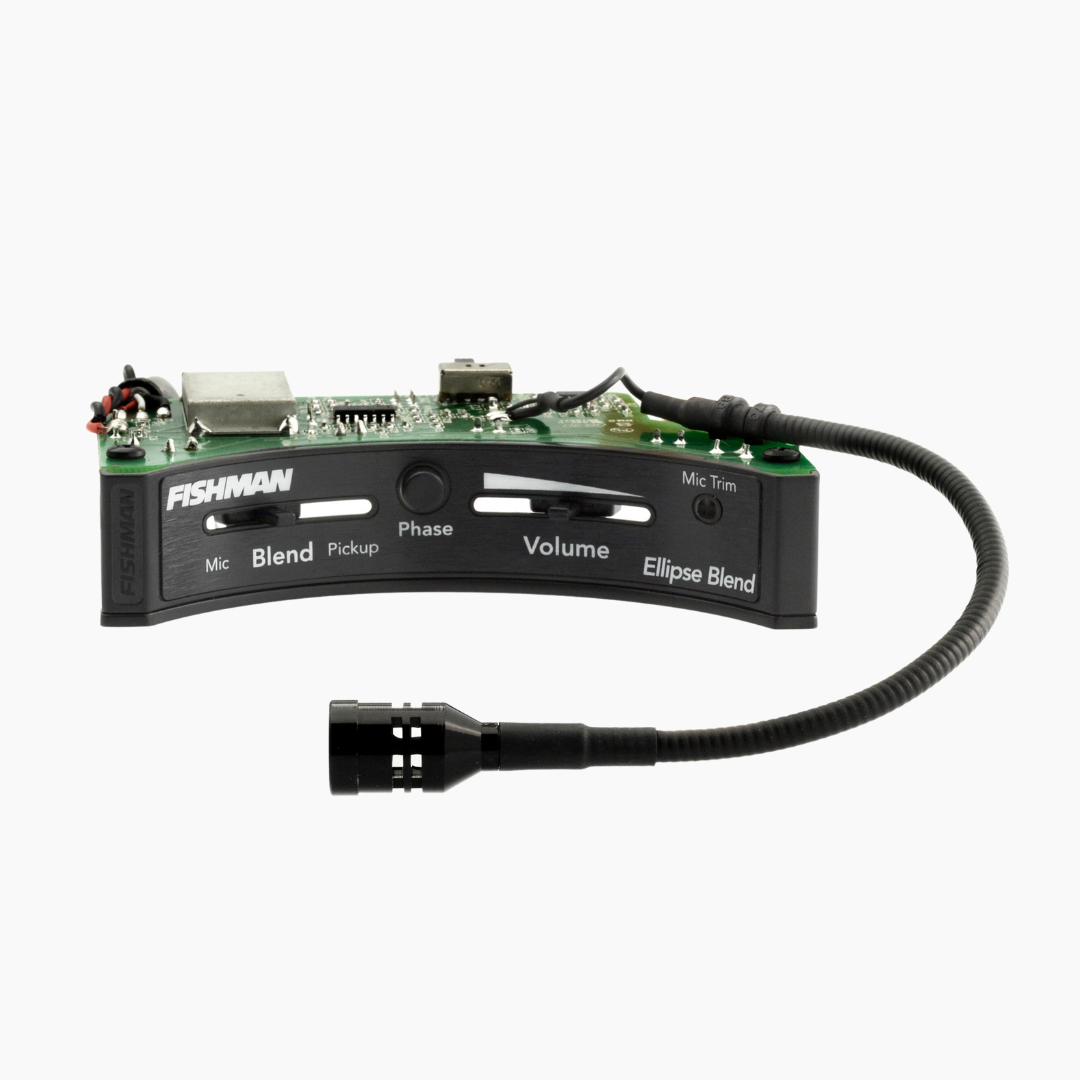 Fishman® PRO-MAN-EL2 Ellipse Matrix blend Pickup and Preamp System - Narrow Pickup
Add the power and sonic clarity of Fishman's renowned blending technology to your guitar, without any visible modification.

The Ellipse Matrix Blend combines the world's best-selling undersaddle pickup, the Fishman Acoustic Matrix, with the popular Ellipse Blend, to give you incredible tone at your fingertips.
With its flexible gooseneck condenser microphone, volume, blend, and phase controls, the Ellipse Matrix Blend makes it possible to have the best of both worlds when you play. The sparkling, transparent sound and control that our Acoustic Matrix pickup is complemented by the unique and expressive character of a microphone.
Ellipse Matrix Blend Pickup & Preamp System Features and Specifications:
Pickup Format: Narrow
Pickup Dimensions: width: 3/32" (2.33mm) length: 2.65" (67.3mm)
Soundhole Requirements: Accommodates most round soundholes from 3-7/8" (98mm) to 4-1/8" (105mm) in diameter.
9-volt battery required
Battery Life: 220 hours
Super low-noise onboard preamp system
Ergonomic soundhole-mounted design puts slider controls at your fingertips to maintain a natural playing position
Features the world's best-selling undersaddle pickup, the Acoustic Matrix
Phase switch (feedback control)
Custom-designed cardioid condenser mini-microphone with gooseneck mount and accessible mic/pickup blending, plus mic trim control
Unique patent-pending neodymium magnetic mounting system for easy, solder-free installation
Solder-free connections
Switchable low-frequency tone-shaping built into preamp
Professional installation recommended
*Allparts is an authorized retailer for Fishman® products in the USA only