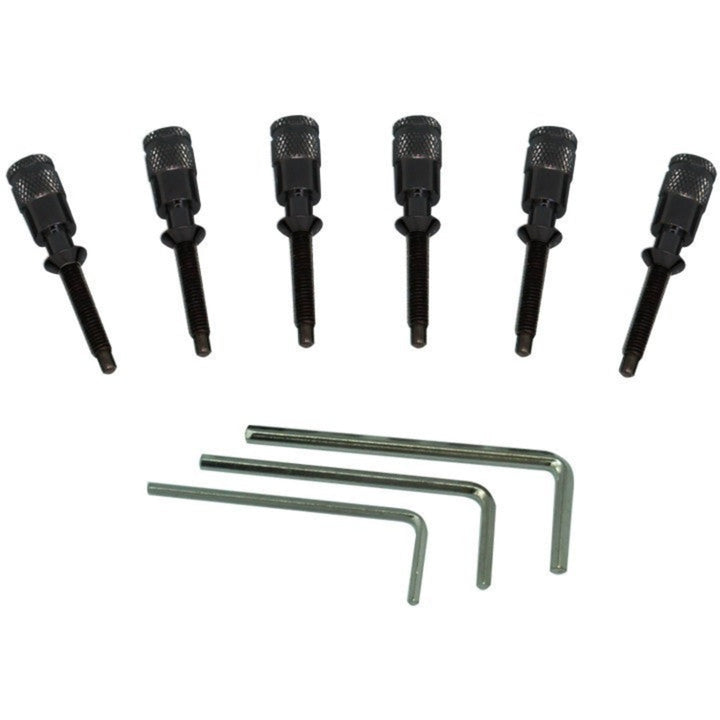 BP-2290 Hollow Point Intonation System for Floyd Rose®
Description:
The Hollow Point® system for Floyd Rose ® is a replacement guitar part specifically designed to help players, technicians or anyone performing guitar repair to set the intonation on a double locking guitar tremolo accurately and efficiently.  They have been designed to reduce much of the headache that can be associated with repositioning the bridge saddles while tuning and setting the intonation on a guitar.
In addition to reducing set-up time, Hollow Points® improve the overall appearance of the bridge, giving it a more stout, meaner look!
Once a set of Hollow Points® is installed, our BLITZ Method® of intonation is a systematic approach to setting the intonation more efficiently with greater accuracy and increased tuning stability.
Constructed of solid brass, each Hollow Point® is proudly designed in the USA.  In addition to increasing the efficiency and ease of set-up, other benefits include improved appearance, increased mass, sustain and tone.
Each set of Hollow Points® comes with:
6 Hollow Point® Intonation Inserts 
6 Threaded Set Screws,
1 - 3mm Hex Wrench
1 - 2.5mm Hex Wrench
1-2mm Hex Wrench
The BLITZ Method®:
B - "BOMB" the trem unit by depressing the arm to its fullest extent
L - LOOSEN the Saddle Mounting Screw
I - INTONATE the string by adjusting the position of the saddle
T - TIGHTEN the Saddle Mounting Screw
Z - ZERO out the fine tuner within the groove of the Hollow Point