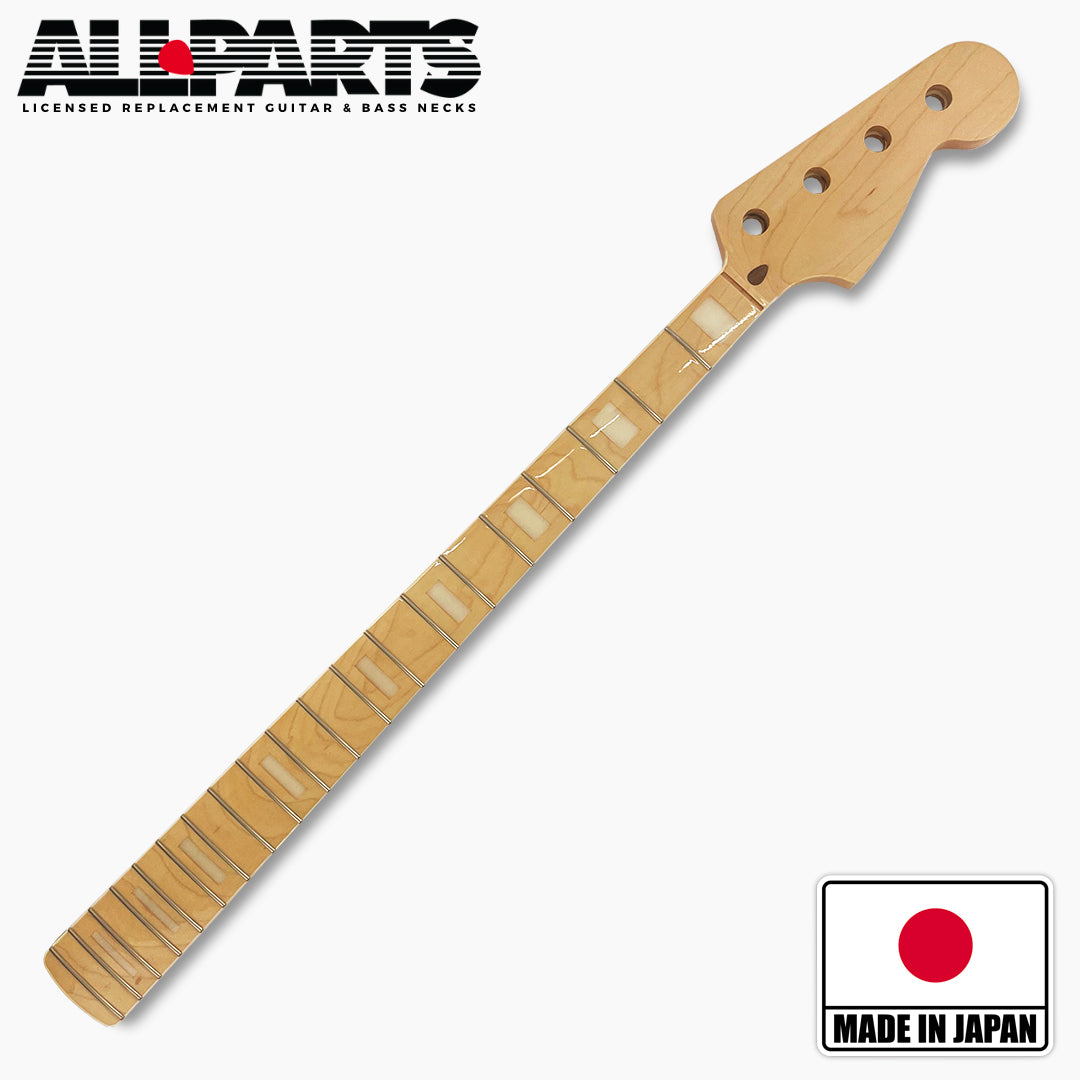 Allparts "Licensed by Fender®" JMF-B Replacement Neck for Jazz Bass®
Our JMF-B replacement neck for Jazz Bass® is "officially licensed by Fender®" and made to exacting quality standards in Japan.  Offering a narrower nut width, more rounded neck profile, and deluxe aesthetics, the JMF-B has become a favorite for even the most accomplished artists.  Featuring a bound fretboard, pearloid block inlays, and 20 Jumbo frets, our JMF-B offers a comfortable feel with a deluxe, high-end look!
Specifications
Scale Length: 34"
Neck Profile Shape: C
Frets: 20 Jumbo frets (.108" x .045")
Wood: 1-piece maple w/ bound fretboard
Finish: Tinted polyurethane
Fretboard Radius:  Compound 7.25-10" Click here for more info!
Inlays: White pearloid blocks with black side marker dots.  Cream fretboard binding
Nut Width: 1.5"
Heel Width: 2.5"
Heel Shape: Round 
Tuning Peg Holes: Vintage 2-step hole

11/16" (17.46mm) bushing-hole diameter
9/16" (14.28mm) post-hole diameter

Truss Rod Adjustment Location: Heel
Neck Thickness:

0.92" at first fret
1.01" at twelfth fret
Important Notes
Wood grain varies from neck to neck.  Your neck may differ slightly from what is pictured.
All necks have a limited lifetime warranty against defects in materials and workmanship.
All necks may require fret leveling and polish.  This is normal and not a defect.
To protect against the effects of moisture, we recommend sealing unfinished necks prior to installation.
This neck is licensed to Allparts Music Corporation by Fender ® Musical Instruments under a quality control trademark license.  Allparts Music Corporation is not affiliated with Fender ® and no Fender ® warranty applies.