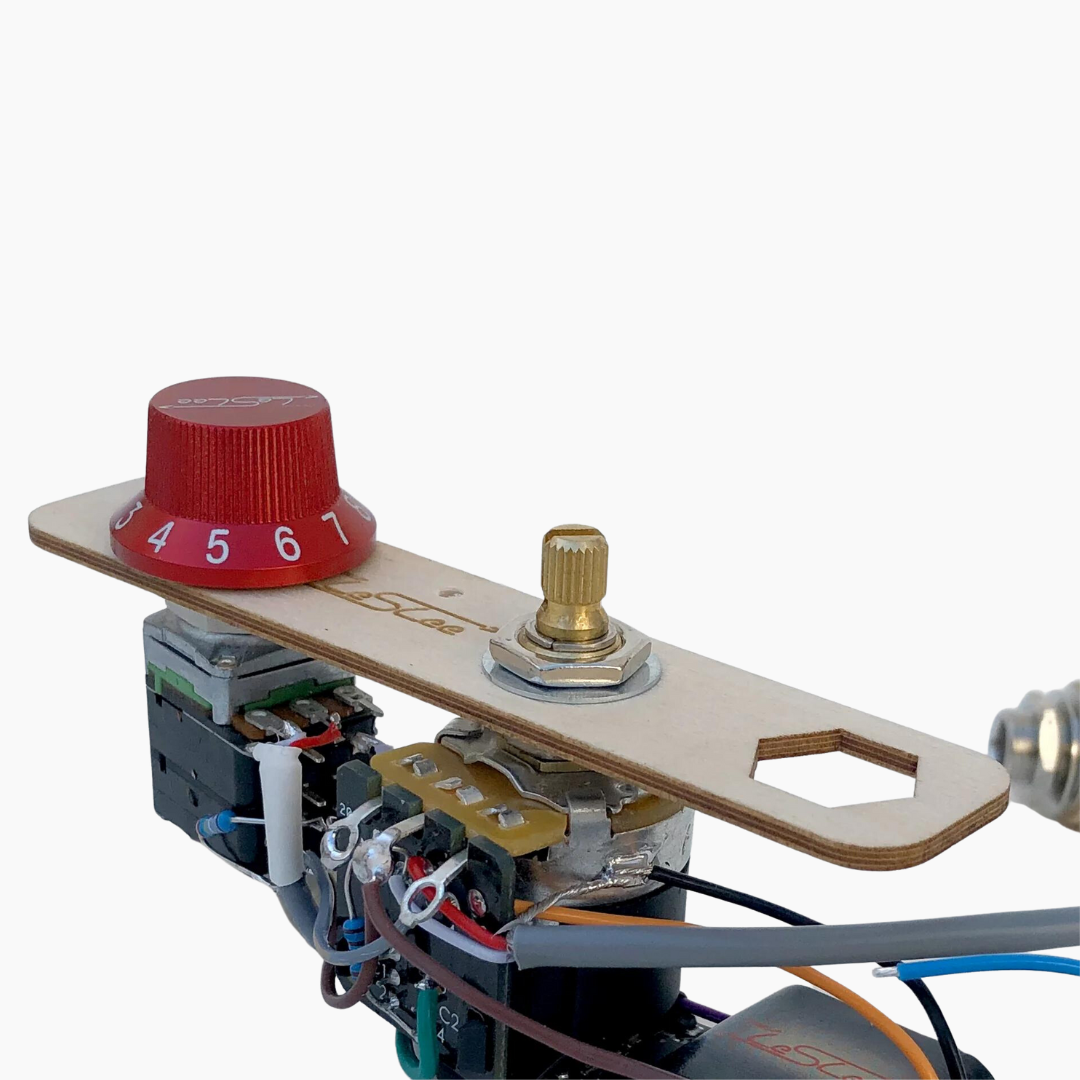 Pickup Leslee for Stratocaster
The Pickup LesLee®
The Pickup LesLee circuit is a new and revolutionary approach to creating effects.  Tremolo and Vibe effects are generated from alternating your neck and bridge pickup signals – not from applying an effect to your signal the way you would if you were using pedals.  This approach preserves the character of your guitar's tone while offering rich and dynamic tremolo and phasing effects simply by plugging into an amplifier with a standard guitar cable.  On/Off and speed controls are present at your fingertips, and even richer swirling soundscapes can be achieved by switching to stereo-mode and plugging into two amplifiers with the included stereo Y cable!
Pickup LesLee® for Stratocaster®
In keeping with the classic Strat® control format, full control of the circuit is available at your fingertips.  A push/pull pot replaces the middle tone control transforming it into a master tone and stereo/mono selector, while the lower tone control is replaced with a push/pull ON/OFF/SPEED control for the circuit.  Your volume control remains unaltered. 
 Features
Revolutionary new approach to "effects".  Tremolo and Vibe tones are generated from alternating the neck and bridge pickup signals – NOT from applying an effect to your tone the way you would if you were using pedals.
Revolutionary new approach to onboard electronics in that the circuit is powered by a rechargeable super-capacitor instead of an onboard battery.  No extra routing for a 9-volt battery required!
Easily accessible tremolo / auto-stutter, and phaser effects with speed controlled from your guitar.
Fits into most control cavities without modification.  
Completely invisible once installed.  The look of your guitar remains unchanged.  100% reversible. 
All-analog switching circuit preserves your original passive pickup signals and is true bypass when disengaged.
Produced with premium components guaranteed to preserve or even enhance your tone!
Optional Stereo operation. 3-meter TRS split stereo cable included.
Powered by a rechargeable custom-made super-capacitor with a 50 – 100-year lifespan. 
Included outboard 9-volt battery connector allows for recharging in 10 seconds!
10 second charge provides roughly 8 hours of play time and one week of stand-by time. 
Designed on collaboration with Matthias Grob (Paradis Guitars) and Frank Deimel (Deimel Guitars)
Produced in Germany.
Pickup Leslee Includes
Pickup Leslee onboard circuit
9volt recharging cable
Custom red Pickup LesLee

®

 

knob for ON/OFF/SPEED control
Copper shielding strip
3-meter TRS split stereo cable
Wiring instructions
 For more details CLICK HERE