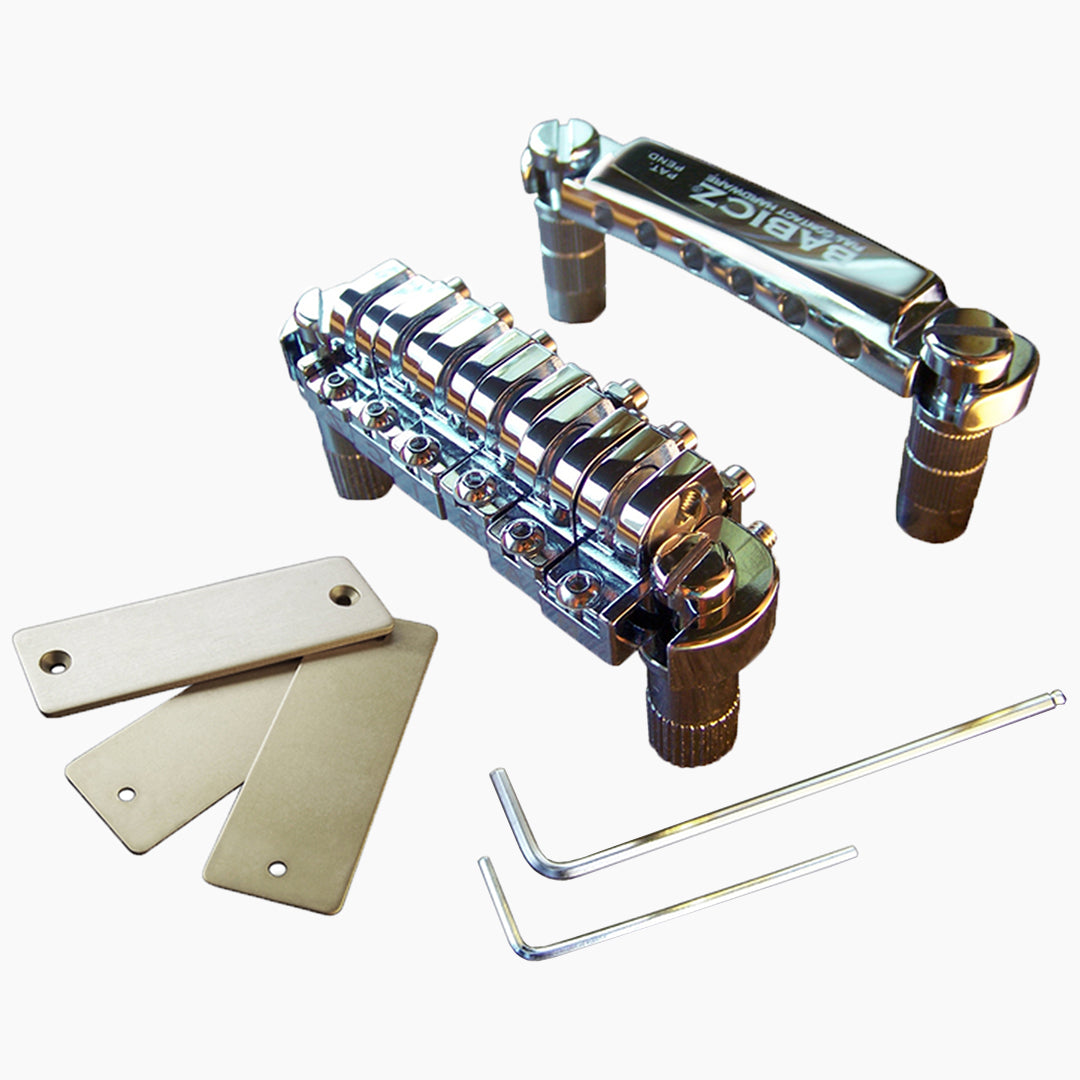 GB-3550-010 - Babicz Full Contact FCH TUNE-O-MATIC STYLE BRIDGE
Description:
A direct replacement for any guitar equipped with the "Tune-o-Matic" bridge and Stop Tailpiece, this innovative solution allows for extremely fast and precise individual string height "action" adjustments as well as accurate individual intonation adjustments.
There are no gaps or voids to inhibit the transference of the vibration of the string and the resonance of the body. The "Full Contact Hardware" direct coupling replacement system for "Tune-o-Matic" style bridges mounts directly to the top of the guitar, therefore unwanted spaces between the bottom of the bridge and the top of the guitar are eliminated. The Babicz "Full Contact Hardware" system for "Tune-o-Matic" style guitars offers unmatched stability, increased sustain, dramatically improved fullness and tone along with complete adjustability.
Color: Chrome
PN: FCHTOMCH
Features:
Double locking Original Series design

Patented eCAM saddle technology

Fits arched top (Les Paul), or flat top (SG) type guitars

Upgrade fit for most Gibson style Tune-O-Matic bridges

Hight performance aluminum construction
Weight: Bridge 2.3 oz. Tailpiece 1.3 oz.

Adjust individual string heights
ABR-1 Posts for FCH-Tune-O-Matic
Use these posts for ABR-1 Bridge installations. These posts have 6-3/2 thread that screw directly into the guitar top, without metal body inserts
ABOUT TUNE-O-MATIC BRIDGES
Both the ABR and Nashville bridges are types of Tune-o-Matic bridges. The main differences between the two can be found in their adjustability.

ABR Bridges
The ABR style bridge is the "classic" bridge style. If you own a vintage Les Paul, Reissue or Custom Shop model, you will most likely have an ABR style bridge installed. The bridge posts are 6-32 threaded rods and will be screwed directly into the body wood. The thumbwheel is a separate part of the post that the bridge sits on and moves up and down as the thumbwheel is turned. Many players gravitate towards this style bridge as it's the typical configuration on vintage and vintage reissue Gibson style guitars both functionally and visually.

Nashville Bridges
The Nashville style bridge is similar to the ABR and is found on many more Gibson guitars than the ABR-1. The main difference between the two bridges is in their widths and how they are mounted to the body. The Nashville style bridge has a bridge post that screws into a metal body bushing, with an integrated thumbwheel. Height adjustment is carried out by turning the thumbwheel, which moves the entire assembly up or down as it screws into the metal body bushing.