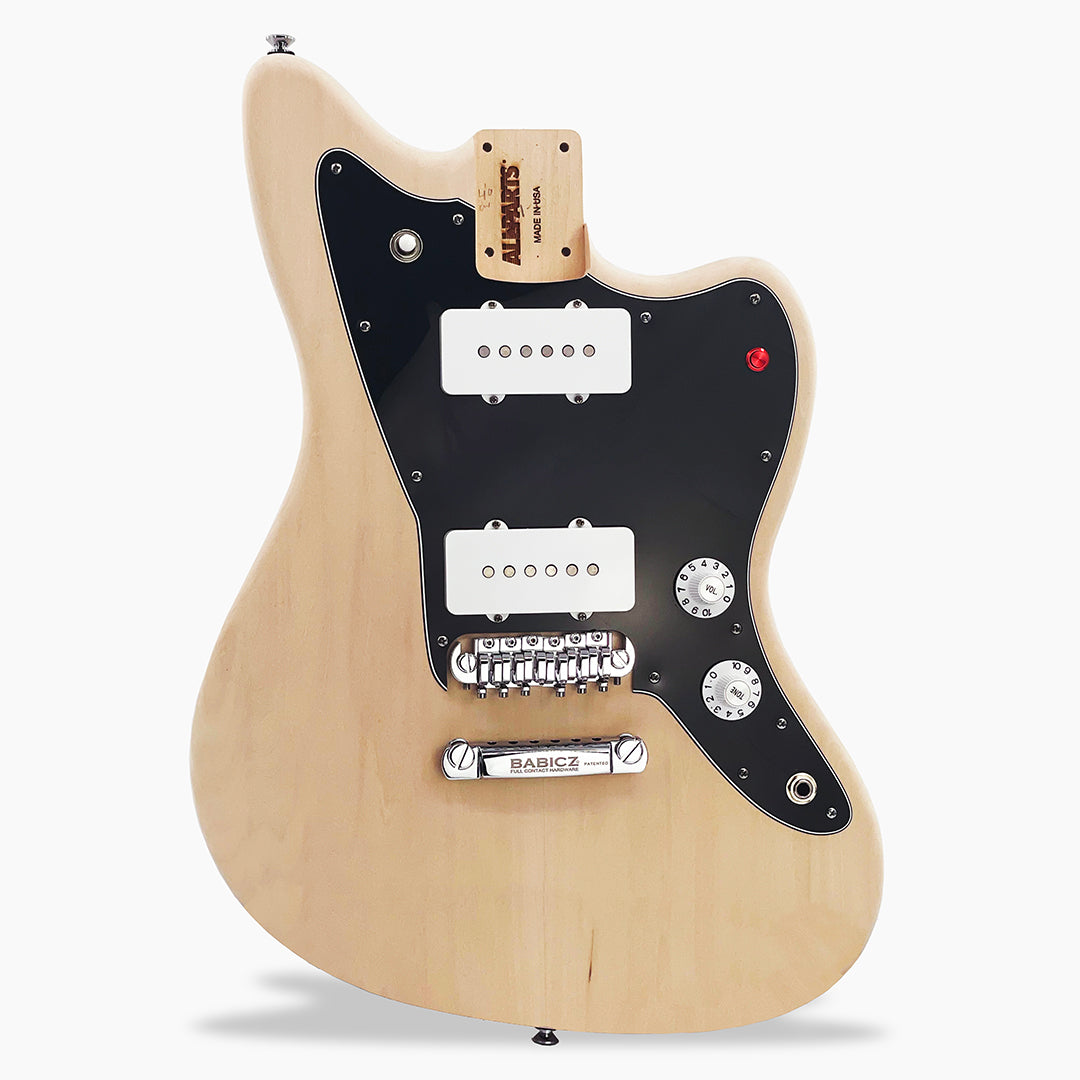 Allparts Hardtail Replacement Body for Jazzmaster® - Bundle & Save
In collaboration with Babicz Full Contact Hardware® and Tesi Switch®, we're proud to offer a limited edition Allparts hardtail body-bundle to Jazzmaster® fans. 
Modeled after the Fender® American Special Jazzmaster produced from 2014-2017, our US-made unfinished hardtail replacement body is ready to finish to your liking.  Paired with an ultra-stable Full Contact TOM bridge, Razor® Mangetsu pickups, Tesi Kill Switch, premium electronics, and custom pickguard, you'll be well on your way to building the guitar of your dreams!    
$999.99 value - Save 10% when you "Bundle & Save".  Collection Includes:  

JZASP-B

–

USA-made basswood replacement body for American Special Jazzmaster

GB-3350-010

–

Babicz Full Contact FCH TUNE-O-MATIC style bridge - chrome

PG-0582-033

– 

Custom - Custom 3-ply black/white/black pickguard 

RZR-10101

–

Razor Mangetsu Full Moon neck pickup for Jazzmaster
RZR-10100 –

Razor Mangetsu Full Moon bridge pickup for Jazzmaster

AP-0670-010 – Strap buttons - chrome
EP-4928-026 - Tesi Switch IDO Super M kill switch 10mm
PK-3242-025 - Witch hat tone knob - white
PK-3244-025 - Witch hat volume knob - white

EP-4136-000 - Wiring kit for American Special Jazzmaster

GS-0001-010 - Pickguard screws - chrome
Please note:  Price shown reflects 10% off total combined retail price.  10% discount also extends to Dealer pricing.   

Fender® and Jazzmaster® are registered trademarks of Fender Musical Instruments Corporation (FMIC).  Allparts Music Corporation is not affiliated with FMIC and no Fender warranty applies.