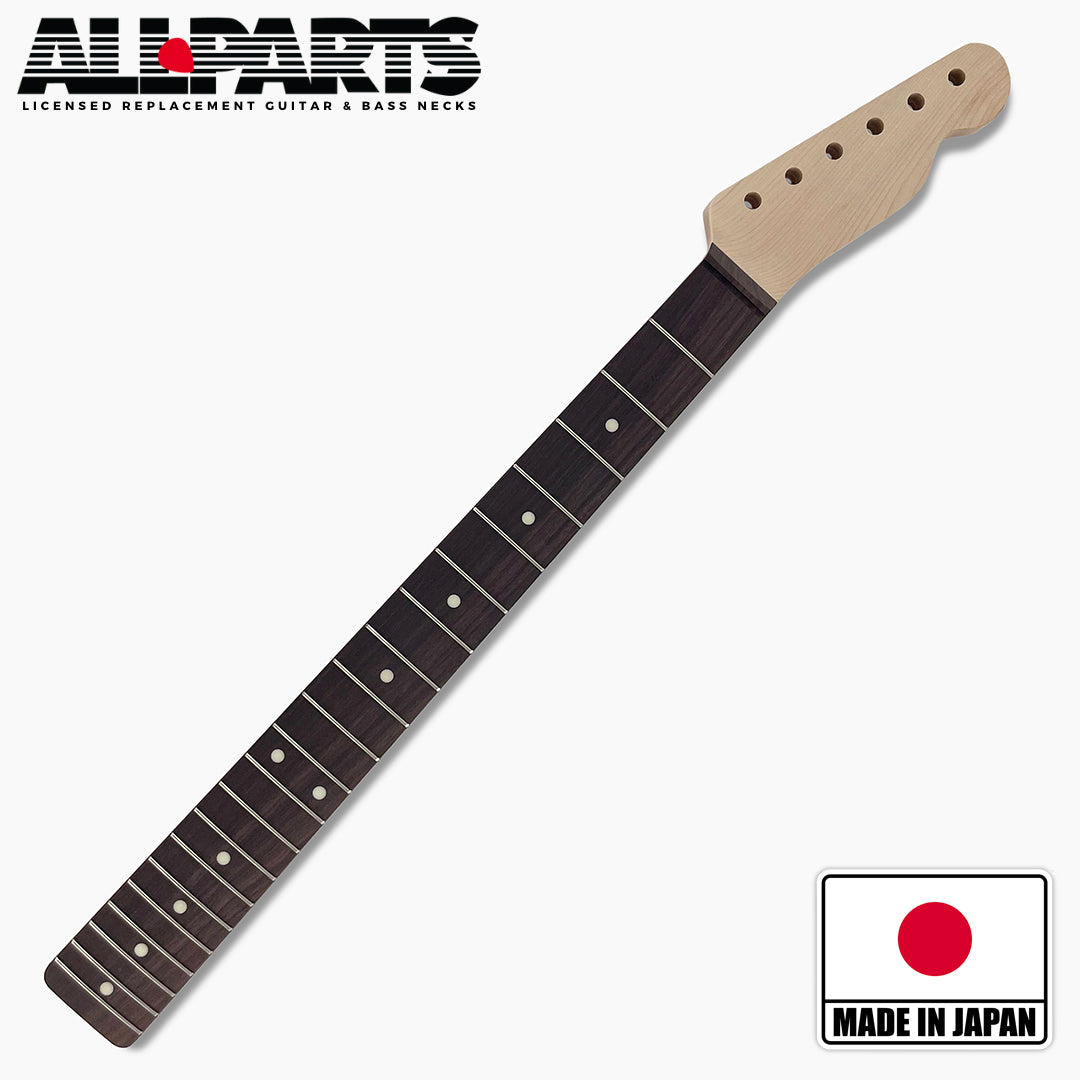 Allparts "Licensed by Fender®" TRO-C Replacement Neck for Telecaster®
Our TRO-C replacement neck for Telecaster® is "officially licensed by Fender®" and made to exacting quality standards in Japan.  Offering a modern 10" fretboard radius and 21 tall frets, this neck offers easy playability, super-smooth string bending, and the added "darker" tones brought on with a rosewood fretboard.   Unfinished and ready to spray, you can finish our TRO-C any way you'd like! 
Specifications
Scale Length: 25.5
Neck Profile Shape: C
Frets: Tall (0.079" x 0.055") 
Wood: Maple with rosewood fretboard
Finish: None/Unfinished
Fretboard Radius:  10" 
Inlays: White fretboard and side marker dots
Nut Width: 1-5/8"
Heel Width: 2-3/16"
Heel Shape: Square
Tuning Peg Holes: Vintage 2-step hole


0.34" (8.5mm) bushing-hole diameter
0.25" (6.5mm) post-hole diameter

Truss Rod Adjustment Location: Heel
Neck Thickness:

0.85" at first fret
0.95" at twelfth fret
Important Notes
Wood grain varies from neck to neck. Your neck may differ slightly from what is pictured.
Allparts necks have a limited lifetime warranty against defects in materials and workmanship.
All necks may require fret leveling and polish. This is normal and not a defect.
To protect against the effects of moisture, we recommend sealing unfinished necks prior to installation.
This neck is licensed to Allparts by Fender® Musical Instruments Corporation under a quality control trademark license. The distinctive headstock shapes commonly found on the Stratocaster®, Telecaster® and other Fender guitars are trademarks of Fender, registered in one or several classes of goods and services with the United States Patent and Trademark Office.
Allparts Music Corporation is not affiliated with Fender® and no Fender® warranty applies.