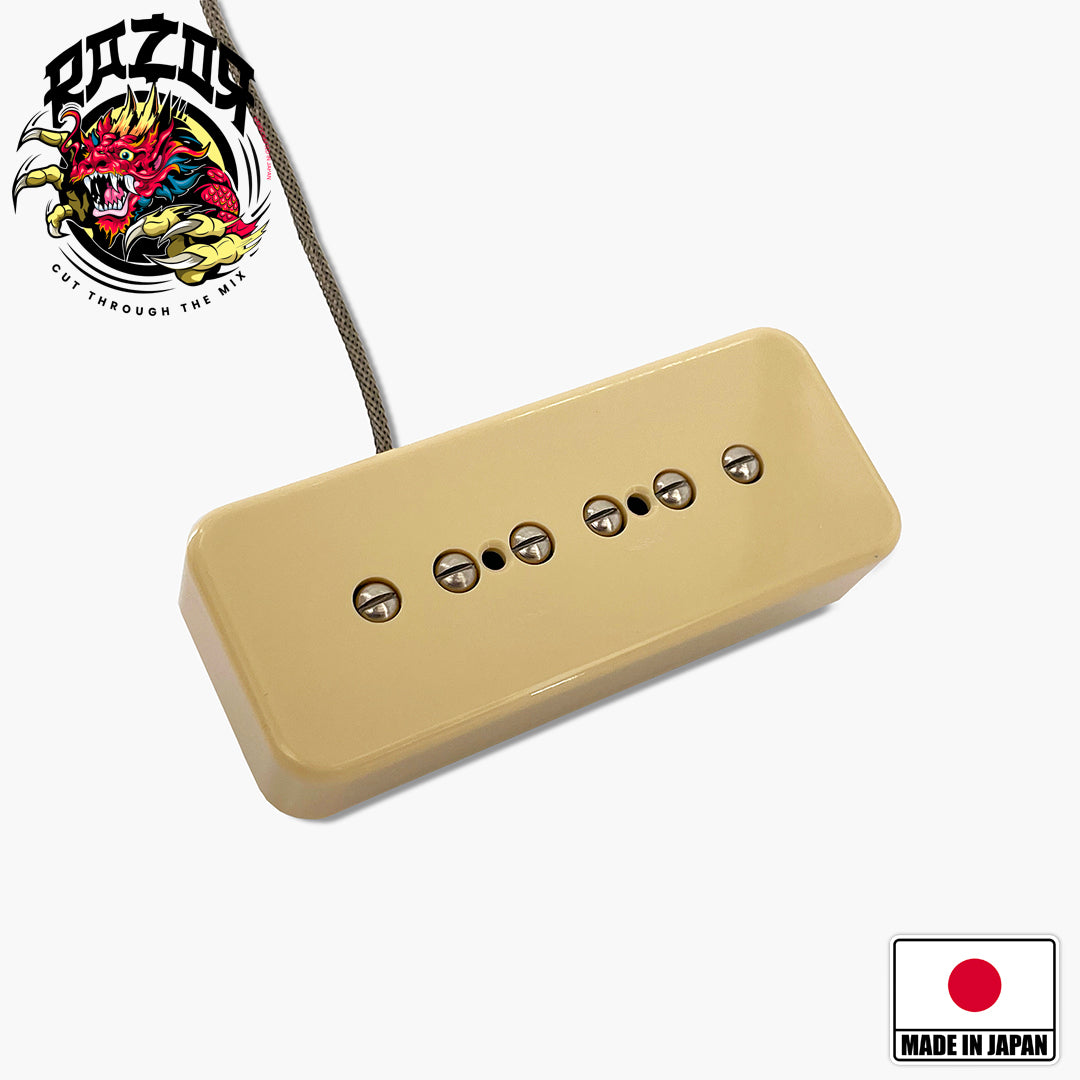 Razor® Hihō Hidden Gem Single-Space Stacked Humbucking Pickup - P90 Replacement - Cream
Razor® - Cut Through The Mix™
Like a sleeping dragon, Razor has been quietly crafting exceptional guitar and bass pickups in Japan since 1996.  Originally conceived to provide players with high-quality upgrade options, the emphasis was always on quality and consistency vs. hype and promotion.  Designed in Texas and manufactured in Japan, the brand uniquely combines an American understanding of "tone" with exceptional MIJ production standards.  Today, the dragon is awake, and ready to rule the oceans of tone.  Fine as a razor's edge, your tone will cut through the mix!   
Razor® Hihō Hidden Gem Single-Space Stacked Humbucking Pickup - P90 Replacement
秘宝 - (pronounced Hihō) - Hidden Gem
The Razor® Hihō (Hidden Gem) Single-Space Stacked Humbucking Pickup for P90 replacement hides a secret "hidden gem" second coil under the top coil.  This design offers you the power, tone, and hum-cancelling of a full-size humbucker while retaining the look and size of a traditional P90!  If you're looking for a way to dramatically expand the sonic potential of your P90 equipped guitar, without changing the appearance, the Razor® Hihō is the hidden the gem you've been searching for!  Please note, that deepening the pickup cavity may be required in some cases.    
Specifications:
DC Resistance: 16.1k
Magnets:  Alnico 5
Winding Wire:  #42 Urethane Coated Wire
Wiring:  22-gauge braided, shielded wire over cloth insulator for traditional installations.  
Included Covers:  Cream
Included Parts:  Pickup mounting foam, screws for mounting to body