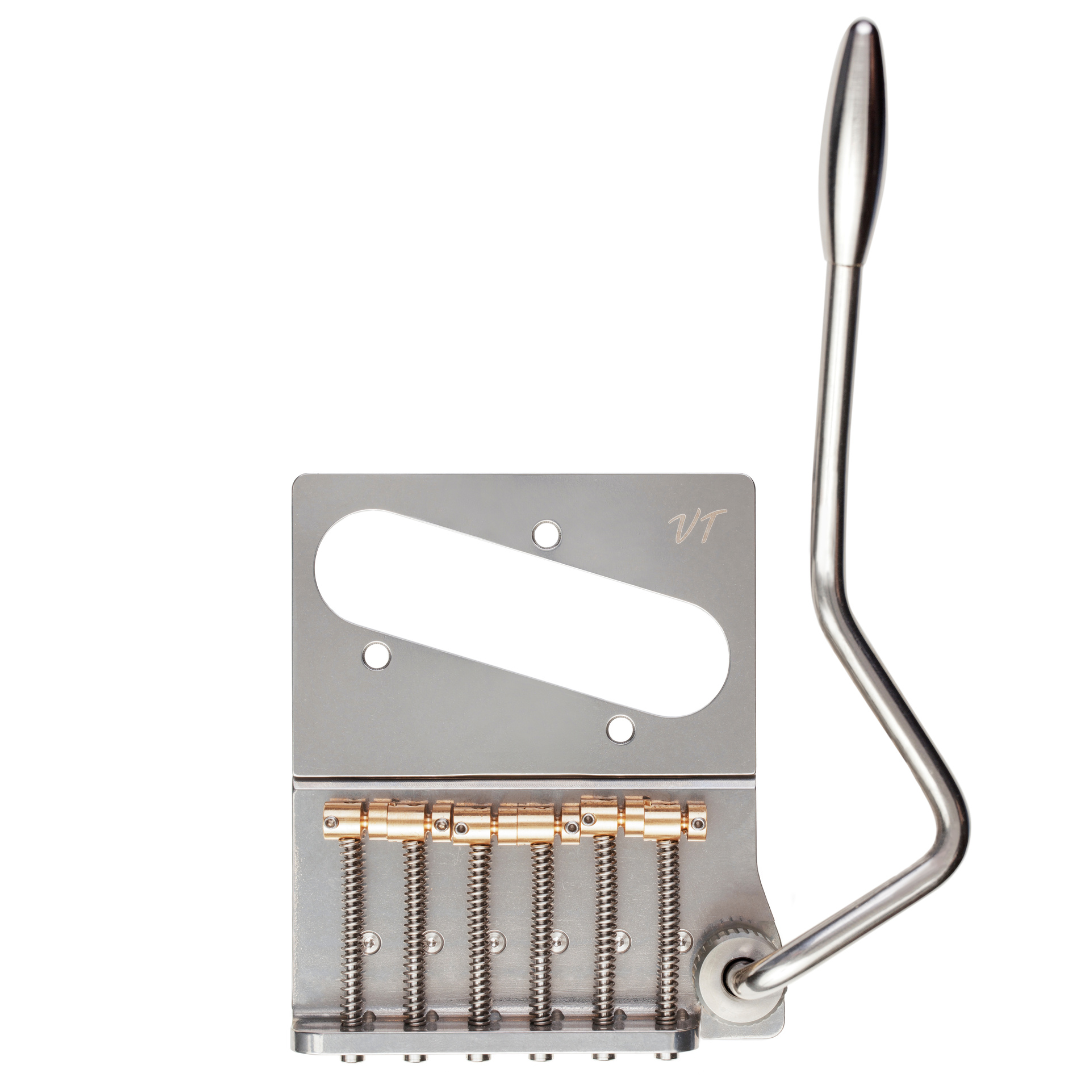 Vegatrem VT2-ND Teletrem Classic No Drill
Yes, we all know that adding some tremolo to your Telecaster® would be great, but no one wants to put a precious Tele® through surgery!   For this reason, the fine folks at Vegatrem® created the VT2ND (No Drill, No Holes) to make your dreams come true!

This premium accessory to replace the fixed bridge of your Tele® doesn't require even the slightest hole or modification because it is mounted using only the existing factory holes of your guitar. Sounds great, doesn't it? So get ready to enjoy tons of new musical possibilities for your Tele®-style guitar while leaving every inch of its body intact. That means that you can reverse the process and leave the fantastic (and often expensive) original Telecaster® body as it was made, with zero modifications and with all its market value intact, whenever you want.
VT2ND Redesigned Saddles
Vegatrem's redesigned saddles offer a new tongue-and-grove style solution to vintage style saddles that allow the E-A, D-G, and B-e saddles to touch as they would on a 3 saddle configuration to preserve tonal transfer but allow each saddle to move forward and backward independently for the most accurate intonation and tuning. 
 Features and Specifications
Replaces fixed Telecaster bridge plate with a fulcrum trem unit
Retrofits onto most

 

Telecasters®

 

using "vintage-spec" bridges
Uses traditional Telecaster bridge plate design
No drilling required, allowing you to revert back to the original bridge without having to hide or fill any holes.
High-quality, marine grade stainless-steel plate and trem arm.
6 slotted redesigned brass saddles allow for precise intonation while preserving tonal transfer
Fulcrum pivot for low friction/noiseless trem action
Stainless Steel Construction
Made in Europe
2-year manufacturer's warranty
* Not sure which tele bridge plate you have?

 

CLICK HERE
Included
VT2-ND Teletrem Classic unit
Trem arm
Adaptor and screws for fulcrum
0.050" and 2mm allen wrenches
*more details from the manufacturer CLICK HERE