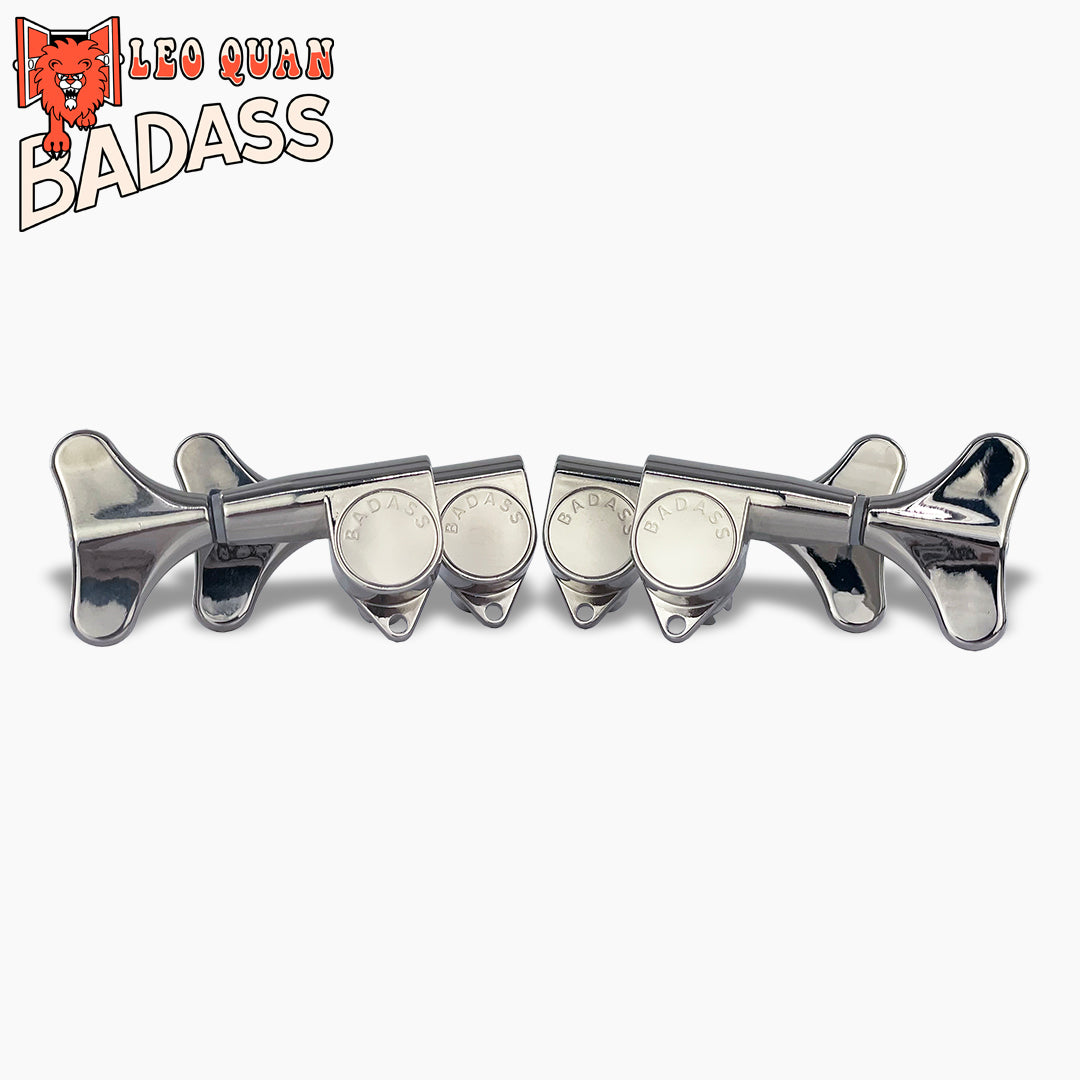 Leo Quan® Badass SGT™ Bass Keys - Sealed - 2x2 set
BIRTH OF A BADASS
Back in 1972, musician, innovator, and luthier Glen Quan saw the need for higher-quality guitar and bass bridges.  With help from Leo Malliari of Leo's Music in Oakland, CA, the first "Badass" bridges were born.  "Leo Quan Badass" bridges were manufactured from a high-density Zinc alloy and offered improved attack, sustain and note-clarity.  Badass® bridges quickly gained a following with artists looking to upgrade their Fender® basses and were ultimately featured on several Fender artist signature models.  Through the '80's, BC Rich, Spector and Kramer featured Badass bridges as original equipment on their instruments and artist acceptance continued to grow.  Today, Badass is known worldwide as the standard for quality replacement hardware that will enhance the tone, playability and appearance of your guitar or bass.         
BADASS SGT™ SEALED GEAR 2X2 BASS TUNERS
Designed as direct replacements for Ibanez®, Schechter® and other contemporary Bass manufacturers, our Badass SGT's feature a high-tolerance machined brass gear (20:1 gear ratio) for maximum accuracy and minimal slippage.  A durable steel worm gear and sealed housing offer maximum longevity.  And to make sure they won't weigh down your headstock, we've given them a light-weight zinc housing.  After all, why settle for average when you can be a Badass?      
 Features:
High-tolerance machined brass gear (20:1 gear ratio) for maximum accuracy and minimal slippage.  
Durable steel worm gear and sealed housing for maximum longevity.
Lightweight zinc housing and string post.
Easy single-screw mounting with threaded bushing and washer.
Modern aesthetic preserves the look of your favorite bass. 
Available in both 4-in-line and 2X2 configurations.

For 4-in-line configuration check here -

TK-7815
Genuine Leo Quan Badass Tuning Keys, Distributed by Allparts Music Corporation.  Manufactured in Korea to exacting standards.